Jul 28, 2015
Email Habits that Contribute the Most to Email Time Suck
This post originally appeared on the www.itbusinessedge.com. To view the article on www.itbusinessedge.com, please click here.
Email is the most pervasive and critical part of every employee's work day. According to a McKinsey Global study, employees spend a whopping 28 percent of their work week on email-related tasks, which is over two hours a day. To put this in perspective, if your company has 1,000 employees, we are talking about email consuming at least 2,000 hours every work day, 10,000 hours every work week and over 500,000 hours every year. Assuming that your average annual cost per employee is $50,000, the time spent with email is costing your company $60 million every year! Whew!
And there's a double whammy. The amount of time that email sucks is going to get worse, according to the Email Market (2014-2018) study by Radicati. This study finds that business email volume is going to increase by over 28 percent, from around 109 billion emails a day in 2014 to over 139 billion emails a day in 2018.
It is critical for your business to carefully study employees' habits that increase the amount of time they spend with email — even seemingly innocuous ones — and take immediate corrective action. To illustrate, let's assume that you are able to help employees save just 10 minutes out of the 120 they spend with email every day. Your company will save 41,700 productive hours and $5 million every year!
But where do you start? In this slideshow, email productivity experts FewClix for Outlook reveal which employee email habits contribute the most to "email time suck" and suggest actions you can take to ensure you are protecting your company from hundreds, maybe thousands, of hours wasted every day with email.
Time-Consuming Email Habits and How to Stop Them
Click through for email habits that create the biggest time suck and suggestions for how to get around them, as identified by FewClix.
Behavior #1: Folder dependence
The first and most critical behavior to tackle is our dependence on folders. While they seemingly help organize and de-clutter your mailbox, they actually can make it much harder to find an email when you need it quickly, especially when an email can potentially be in more than one folder – which is true of a majority of emails. For example, an email reply from a colleague with multiple folks in copy (including your boss) could end up in the wrong folder. This means you have to repeat search tasks in multiple folders before you find what you're looking for. Sometimes (or for some folks, many times) you are never able to find what you're looking for because it is not in the place you expected it to be.
Tip #1: Use folders sparingly and only to "de-clutter" your inbox, for example, by moving emails that belong in categories like subscriptions, alerts, newsletters, etc. to folders. Avoid using folders for work-related emails, especially ones you access often or work with regularly.
Behavior #2: Using the inbox to manage tasks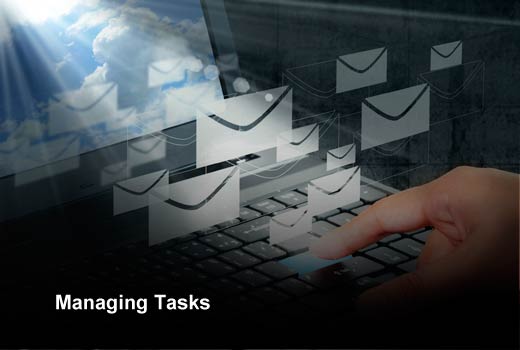 As email volume increases, it becomes harder to manage all the new tasks that your Inbox adds to your already busy day. This is why senior execs do not manage their email, and employ an assistant instead. Those of us who don't have the privilege of an assistant, fall back to the easiest way to manage email tasks – keeping only work in progress (WIP) and pending items in our Inbox and moving everything else out. This activity distributes your emails into multiple locations, instead of having them all in one place and being able to filter or slice through this pile when needed.
Tip #2: Pick one of the many great to-do-list managers on the market and keep updating the tool with new tasks (email and non-email). This helps you have a unified view of all your tasks, making scheduling and time management easier and also helping to keep emails where they should be – in your inbox!
Behavior #3: Time spent on search
As you change behaviors one and two, and employees begin to have larger inboxes, the inadequacy of native search tools, which mostly offer single dimensional search capabilities, will begin to become an issue. With most native email search engines, you cannot find an email with a word that appears just in the content of the email or the attachment and nowhere else, or filter down a large set of results by combining multiple parameters like the sender, subject, content, attachment type, etc.
Tip #3: Use a fast, easy-to-use search tool, to find emails quickly and reliably, eliminating unproductive time spent on search.
Behavior #4: Sorting and scrolling, instead of filtering and eliminating
Whenever we want to browse through our inbox or folders to check about emails or conversations, the most common behavior we exhibit is sorting and scrolling. There is nothing wrong with sorting as long as we know the email(s) we are looking for are very recent (because sorting always involves ordering emails in chronological sequence). But if the email or conversation is not so recent, we begin to scroll through messages, and this is the next big time suck.
Tip #4: Instead of sorting and scrolling, try filtering and then narrowing down to a set of emails by using other information you remember about the email.
Copyright © 2015, QuinStreet Inc. All Rights Reserved.