March 19, 2015
Finding emails using "date range"
Scrolling through tons of email to locate an old message has never been a happy task. But imagine if you had no clue who the sender was, or the exact date it was sent, or what the entire subject line said? All you have, is a vague idea of when it was sent. We're guessing your day just got a little bit more complicated.
Well, guess what? FewClix can uncomplicate it in a trice.
"How", you ask?
Let's say for example that your boss urgently wants an RFP (request for proposal) from a customer that was sent to you several months ago. You can't remember much else about this email, except that you received it sometime between January 2015 and February 2015.
Here's how you can use FewClix to locate the email and impress your boss, in just two short steps:
Let's assume that we are looking for emails with "RFP" (or "request for proposal") in the Subject received in Jan or Feb 2015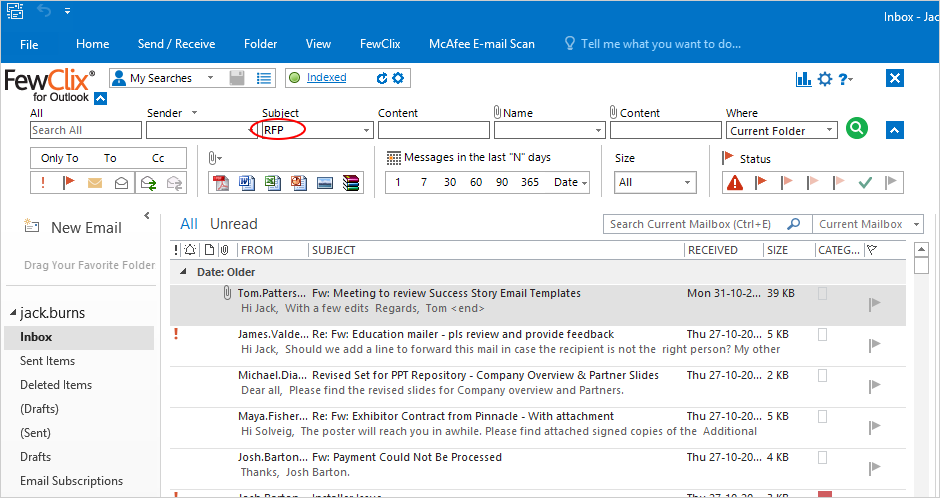 Step 1: Click on the "Date" option
Step 2: Pick January 1, 2015 in the "From" field and February 28, 2015 in the "To" field and click "OK"
And hey presto, FewClix displays all emails in this date range, with "RFP" in the subject line!
That was quick, huh? Now go out and celebrate all that time you saved, with a cold glass of beer!